Join Us April 14, 2PM ET (11AM PT)
Community Colleges continue to play an important role in breaking the barriers to student access and success. At TargetX, we are committed to helping not just our clients, but all of higher education in developing equity-minded, inclusive, and culturally responsive Recruitment and Student Success initiatives. To that point, on April 14, 2021, from 2 p.m. until 3 p.m. (ET), we're hosting a National Community College Panel Discussion, titled, "Community College Focus: Addressing Equity-Minded, Inclusive, and Culturally Responsive Student Initiatives."
The purpose of this national discussion is to bring to light the work Community Colleges across the country are taking to address the racial equity gaps within their institutions and the communities they reside. By bringing together thought leaders in the Community College segment of higher education, attendees will have an opportunity to:
Learn how other Community Colleges across the country are implementing equity-minded, inclusive, and culturally responsive student initiatives.
Understand how outside organizations are supporting the work of Community Colleges in closing the racial equity gap.
Discover potential future trends to support institutional responses to support access and success of diverse student populations.
Meet the Panelists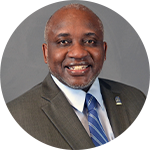 Dr. Steady Moono (He/Him)
President at SUNY Schenectady
Dr. Steady Moono was appointed by the SUNY Board of Trustees as the
7
th
president of SUNY Schenect
ady County Community College in May 2015. He took office in July 2015 with more than
20
ye
ar
s as a leader in higher education. Before coming to SUNY Schenectady, he served as
Chief Administrative Officer and Vice President of the West Campus at Montgomery County Community College in Pottstown, Pennsylvania. Prior, Dr. Moono was the Vice President for Student Affairs at Montgomery County Community College for six years and Dean of Student Affairs for one year. Dr. Moono began his community college career as a faculty member at
Pinebrook
Junior College and
has held
adjunct faculty appointments at Temple University,
Immaculata
University
, and
Montgomery County Community College
.
Additionally,
Dr.
Moono's
career also includes positions as the Assistant Dean for Student Development and Director of Adult & Multicultural Student Services at
Bucks County Community College, and was an e
xperience
d
senior administrator at a Pennsylvania Private Academy.
Dr. Moono knows firsthand the challenges he experienced as a young lost African boy struggling to make it work at a U.S. college. The two mentors that Dr. Moono found helped him feel at home. This experience helped shaped his educational philosophies which led to his nationally recognized mentoring program for minority students at Montgomery County Community College and now at SUNY Schenectady. His work to establish the Minority Male Mentoring Program has been widely recognized and has been a recipient of many prestigious awards. Yaffe-Smith Civil Rights Award for Outstanding Accomplishments in Education and was named "Outstanding First Year Student Advocate" by the National Resource Center. He was awarded the 2011 Innovation of the Year Award at Montgomery County Community College. In 2017, he was recognized and honored by the Schenectady County Human Rights Commission for outstanding service and contribution to the cause of Human Rights in Schenectady County, NY. In 2018, he received the MWAPE AWARD, established in 2010 by Ruth and James Mwape, of New Jersey and is a non-profit initiative by providing a platform to recognize those individuals who, without the benefit of visibility or influence, made a difference through their creativity, energy and sheer tenacity; and the Human Rights Commission Award in recognition for his mentoring work.
Dr. Moono's role in community engagement and service to the community at the local, regional, and national levels is noteworthy. Locally, he serves on the WHMT Board, Schenectady County MLK Coalition, Schenectady County Human Rights Commission, Schenectady City Police Reform Commission, and the Schenectady Foundation Appointing Authority.
Dr. Moono has earned a B.A. in Education from Messiah College, an M.A. in Counseling and Theology from the Biblical Theological Seminary, an M.A. in English from Arcadia University and a doctorate in Higher Education Leadership from Immaculata University.
Dr. Moono and his wife Kelly, have a son, Micah, and a daughter, Naomi. He and his wife are deeply involved in a non-profit project in Zambia.
---
Dr. Victoria Bastecki-Perez (She/Her)
President at Montgomery County Community College
Dr. Bastecki-Perez became the sixth President of Montgomery County Community College in May 2020, and, for the past 25 years, she has served the College in a number of capacities, including interim President and Provost, Vice President of Academic Affairs and Provost, and Dean of Health Science. As President, she is focused on further solidifying the College's status as a premier community college by elevating all aspects of the student experience, increasing access and retention initiatives, and providing students with the tools, guidance, and resources they need to thrive in pursuit of their academic goals. She also values and actively works to further strengthen the partnerships forged within Montgomery County to address broader educational needs and support services for residents and students. Dr. Bastecki-Perez considers herself a life-long Pennsylvanian, and has resided in Montgomery County for nearly 20 years with her husband and daughter.
---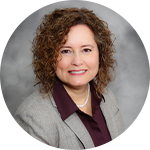 Dr. Claudia Habib (She/Her)
President at Porterville Community College
Dr. Claudia Habib became President of Porterville College in July 2019. She immigrated to the Central Valley of California in the late 1980s from her native Colombia. She attended adult school and supported herself however she could, including by delivering pizzas and cleaning homes and offices. She learned English at a community college in the Central Valley of California. While raising a family, she pursued her education and obtained multiple degrees to achieve her career goals.
She holds a Bachelor's degree in Interior Design and an Ed.D. in Education and Leadership from California State University, Fresno. Additionally, she earned a Master's degree in Instructional Technology at National University. Her ascension to the presidency of Porterville College included, 10 years of teaching as a Tenured Faculty prior to transitioning to administration. Her administrative career includes being a CTE Dean, Dean of Instruction of Fine Performing Arts, Communication & Journalism, Vice President of Student Services, and Vice President of Instruction at Madera and Oakhurst Community College Centers in Madera, CA.
Her determination and vision for success continue at Porterville College. Dr. Habib approaches her work with passion and humanity. Her own experiences as an immigrant has given her a special perspective of PC students who have similar backgrounds. She feels that too often, we forget that immigrants had to make the heart-wrenching decision to leave their country, their family and friends and part of their heart behind for the dream of an opportunity.
Dr. Habib's leadership served the college well during the pandemic. She has led the college during the COVID-19 crisis with resolute commitment to the health and safety of students as her top priority. She credits her faculty and staff for their "PC Spirit", which allowed everyone to come together and adapt to the unpredictable circumstances and see this crisis through.
---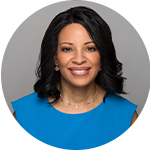 Dr. Monica Parrish Trent (She/Her)
Vice President for Network Engagement at Achieving the Dream
Monica Parrish Trent, Ph.D. is the Vice President of Network Engagement at Achieving the Dream, a national, nonprofit network of more than 300 community colleges in pursuit of equity-minded reforms and greater economic opportunity for the communities they serve. Monica leads the execution of ATD's network engagement strategy, services, and program delivery, as well as the national learning events such as the annual DREAM Conference. With more than 25 years of experience in higher education, Monica brings a holistic perspective and systems change approach to developing and sustaining efforts to remove systemic barriers for college students. As a former Provost and Vice President of Academic & Student Affairs at Delaware County Community College and through her experience as an instructional dean, director of student success initiatives, and faculty member at Montgomery College, Monica's experiences provide her with a deep understanding of the importance of strong faculty engagement and leadership to improving student success. In addition to her administrative experience, Monica has served as a commissioner on the American Association of Community College's Commission on Research, Data and Accountability and is a peer reviewer for the Middle States Commission on Higher Education. A lifelong learner, Monica holds a Doctor of Philosophy degree in Community College Leadership from the Darden College of Education at Old Dominion University (VA), and master's and bachelor's degrees in English from George Mason University (VA).